CHAIR RESTORATION SERVICES
Here at the ECVC Frame Shop one of our most unique services is our chair caning. While chair caning is somewhat of a dying art, it is very much alive right here in Greenville, NC. Our chair caning department is run by Mr. Leon "Holmes" Harrison, Jr. For Mr. Holmes, the art of chair caning just runs in the family. He learned it from his mother and has been caning and restoring beautiful chairs for over 45 years now!
WHAT IS CHAIR CANING
Chair caning, also known as seat weaving, is a craft using the bark or inner skin from a rattan palm to intricately weave the seat and sometimes the back of a chair with a solid frame usually made of wood. The art of caning has been around for centuries and while it's popularity may have faded over time, many people still own heirlooms that have been passed down from generation to generation that are beautiful examples of caning.
OUR SERVICES
There are many different types, styles and patterns when it comes to chair caning. We offer hand-woven, flat reed, radio net, rush bottom, pressed cane and more. We can match your existing chair's style and restore the details and history of any chair.
If you have a chair that needs to be re-caned, make sure to come by for a consult. Mr. Holmes is a master of his art and there is nothing he loves more than bringing a family heirloom or damaged chair or bench back to its original beauty and function.
Hand-Woven Caning on both seat and back
Pressed Cane Partial Bottom
Pressed Cane on back and seat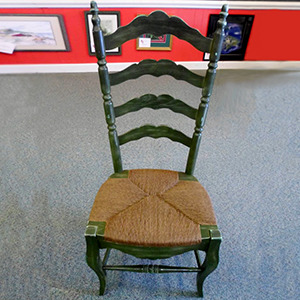 "ECVC Frame Shop revitalized my grandmother's chair and brought it back to life after I had long since given up on it. So thankful for the beautiful craftsmanship and skill."
Elizabeth | Winterville, NC
"Mr. Holmes has a gift. I couldn't believe the work he had done. Absolutely brought tears to my eyes when I picked up my rocking chair that has been in our family for years. Thank you Mr. Holmes!"
Sharon | Greenville, NC
Contact us today at 252-758-3239 or stop by and visit us in-store today for your free chair caning consultation.